The ODNI, the US "intelligence" agencies and the US mainstream media now claim that Putin and RT deliberately sought to discredit Hillary and help Trump to win. Do US intelligence agencies even read RT? Or did they have in mind an article like this published by RT in July of 2016 and why did RT find Trump-themed urinals newsworthy and respectable for a news agency like RT? The article even includes a photo-shopped image of public toilets to which Trump's face was photo-shopped--like
this one:
What a great support Kremlin's RT afforded to D. Trump!
The US intelligence community concluded in a declassified report released Friday that Russian President Vladimir Putin ordered an "influence campaign" aimed at hurting Hillary Clinton and helping Donald Trump in the 2016 presidential election. ...

"We assess Russian President Vladimir Putin ordered an influence campaign in 2016 aimed at the US presidential election. Russia's goals were to undermine public faith in the US democratic process, denigrate Secretary Clinton, and harm her electability and potential presidency. We further assess Putin and the Russian Government developed a clear preference for President-elect Trump," the report said.
The ODNI devoted seven pages to RT and its influence on the election "by serving as a platform for Kremlin messaging to Russian and international audiences." The report claimed "Russian media made increasingly favorable comments about President-elect Trump as the 2016 US general and primary election campaigns progressed while consistently offering negative coverage of Secretary Clinton." RT's pro-Trump campaign began in March 2016, according to the ODNI, by "consistently" casting Trump "as the target of unfair coverage from traditional US media outlets" that were "subservient to a corrupt political establishment."
A Donald Trump urinal has Dublin lining up to take aim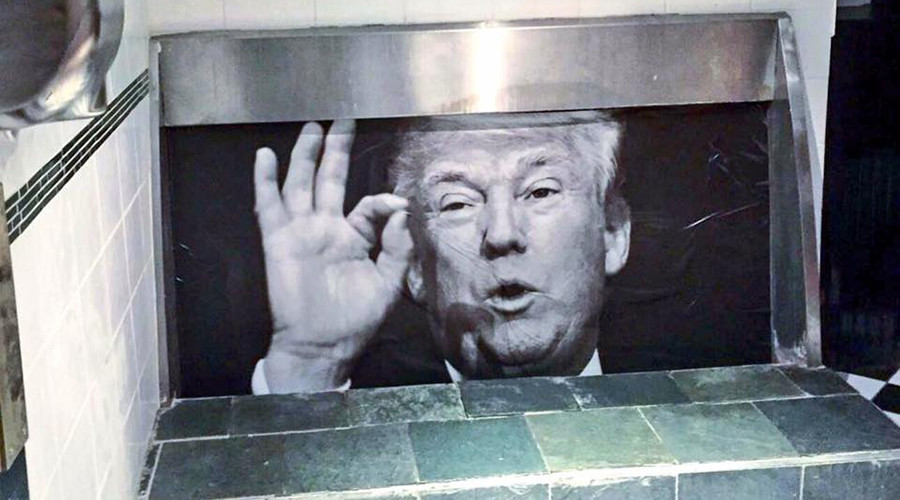 For anyone who's ever had the urge to pee on Donald Trump, one Irish pub has got you covered.
Adelphi pub in Dublin recently unveiled a new urinal that allows patrons to cover The Donald's face in urine.
It's proving quite popular.
So much so, the pub is even considering something similar for the ladies' bathroom.
Funnily, the idea of peeing on Trump's face isn't a new one. The Atlas Ballroom in Indiana installed Trump urinal cakes in February.
In Canada, the District Stop nightclub in Winnipeg made a mural of Trump with a urinal where his mouth should be. The mural, which features some of Trump's best quotes, was created way back in September, when the artist didn't think Trump had a chance.
The Three Stags pub in London created a "p*ss poll" for its patrons, adding three large Trump, Ted Cruz, and Marco Rubio heads to its urinals to see which Republican candidate people were most drawn to pee on. Trump was the winner.
The pub even added the heads to the women's bathrooms after there were calls for a more gender inclusive contest.
Someone photoshopped Trump's face onto a picture of the restrooms in a Paris bar called Belushi's in November, which may have started the whole Trump toilet trend.